Happy 70th Birthday, China!
On 1 October 1949 China was (re)born. After decades of struggles and humiliation, the end of 2000 years of dynasties and a civil war, it was no other than Mao Zedong who gloriously proclaimed the new People's Republic of China. 国庆节 (National Day) was born and has been celebrated every year since 1999. Although the path to the China we know today was rocky, it was travelled at lightning speed. No other country in the world was lifted out of poverty quicker than China. China is a global superpower once again, a feat any citizen would be proud of.
What elevates this pride to another level is the collectivist mindset. Unlike in the West, in China, the collective, i.e. the state, communes and family always stand above the individual. Imagine then, what it must feel like for a Chinese national to be reminded of how far the country has come and to see your fellow 1.4 billion citizens unite in mass to celebrate China. Imagine the pride. And the emotion. And now try to remember the last time you watched a parade (that was live-streamed across all social media and TV channels and for which the government distributed thousands of TV sets to families so that they could watch it) or a 7-part series plus a movie that celebrated your country (which smashed box office records within hours of being released).
A new surge of nationalism
There has also been much talk about a surge of nationalism in the younger Chinese generations. This is down to various reasons. For one, younger generations are often the most active in grouping together to voice common interests and starting national trends. On top of that, Chinese youths are some of the most active users of social media, meaning patriotic messages spread like wildfire. Furthermore, especially those born after the 00s, have only really known a prosperous China and maybe heard of previous struggles from their parents. Many of them have travelled to the 'developed' West only to find that, for example, technology, payment systems and mobile applications were more convenient in China. Not to mention the fact that China has become a hot topic in the West and a model for technological innovation. No wonder they feel extra proud to say they're Chinese.
And that's it, marketing is all about tapping into or triggering emotions, so what better time to double down on China marketing?
The good news is that brands have a whole week (plus the run-up to that week) to do so: the national holiday also known as Golden Week 黄金周. Read on for great brand examples and why they worked so well with their Chinese audiences.
Although nowadays considered very cliché and unimaginative in Chinese marketing, it is certainly allowed during Golden Week. Chinese houses, roads, tube stations and shops are adorned with the iconic red flag with golden stars and cities are lit up in red.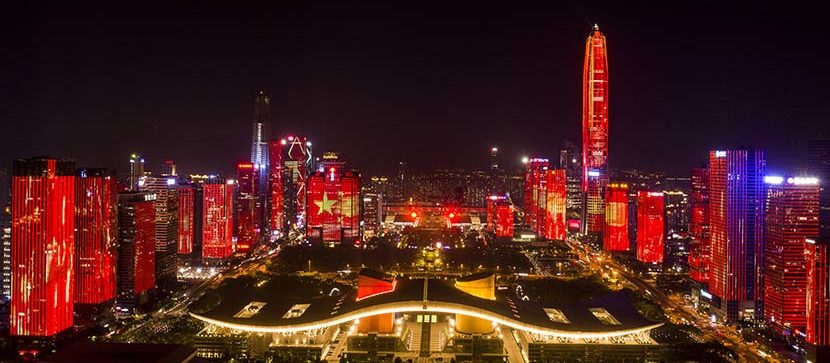 (Image by People's Daily)
Red social wave
Tencent's server even crashed when millions of WeChat users requested a flag to be added to their profile picture. Speaking of which, scrolling through WeChat moments or any social media feed for that matter, you would not get past two posts without seeing red. The colour – not despair.
Most posts on National Day were about China, celebrating the milestone and displaying pride for the country. In fact, all 15 trending hashtags on Weibo had some reference to National Day, the top trending one racking up over 5.2 billion impressions. This meant that brand messages needn't be exceedingly creative – a simple "happy birthday China" is enough to show Chinese consumers you care about China (and therefore you care about them). Chinese make-up brand Perfect Diary posted a simple 70 in red blush, for example.
BRANDS DURING GOLDEN WEEK
Brands did not miss this opportunity to connect with their Chinese followers in a more or less creative way.
Wear it with pride
Lining, the hottest Chinese sports apparel brand, tapped into both China's birthday and the current streetwear/sneaker trend with their golden week campaign. They produced 2019 pairs of special National Day trainers, numbered 1 to 2019, and gave them out to influencers and lucky individuals. Hopefuls could go to one of 30 Lining stores, dressed in Lining to put their name in a hat. The campaign went viral on social media.
Chicken to fuel patriotism
KFC, a Western brand with a strong China presence (and an example we enjoy using as their China marketing is usually very clever) reaped the patriotic fruits of National Day with a Chinese Dream campaign. The Chinese Dream is a big topic in China, as, much like the American Dream, it is believed that China allows anyone to become what they want to be through hard work and dedication. Influencers shared their Chinese Dream and how KFC fuelled those dreams. Some may think it's a little OTT, especially to westerners, but the topic strikes a chord with many Chinese people.
Travel destinations tapping into holidays
While many Chinese brands shared their own China pride, launched new products or promoted existing ones, most Western brands focused on the weeklong holiday and leveraged the travel and shopping opportunities. A whopping 17 million trips were taken this Tuesday (National Day) within China alone, international travel figures were up from last year too. Great news for destination brands, such as Heathrow Airport, which benefited from an influx of Chinese travellers. Heathrow endorsed partner destinations in London, such as Harrods, gave special product deals as well as promoting their personal shopper service.
Campaigns beyond brands
But it was L'Oréal that really smashed it this year. They launched a campaign with various layers. With China turning 70, they portrayed 70 faces, 7 generation times 10 people, to be precise. Not only does this highlight the diversity in L'Oréal's consumer demographics and appeals to every generation within the 70-year timeframe, but it also hints at how far China has come in just 70 years. Each generation has made unique experiences and seen more or less changes. On top of that, L'Oréal invited other brands (including YSL, Maybelline, and Kiehl's), influencers and celebrities to share their story by tagging them and saying they stand with China. Amazingly, it worked a treat, as others were just as proud to share these 70 representative faces, regardless of the brand attached.
At Qumin, we always stress how important it is to show your Chinese audiences that you respect them. We want brands to understand to whom they are talking to and to create meaningful campaigns that forge a positive and lasting bond. It is not always easy to understand foreign cultures without stepping on toes, but this is exactly why we do what we do. We hope you could take something from this article (and our other articles too) and feel free to reach out if you want to chat about your brand and China.