A week ago, Amazon, the Western hemisphere's online retail colossus, celebrated its 4th Prime Day. From 15 to 16 July, Prime members worldwide could snatch up juicy deals on their country's Amazon site. The event smashed previous sales records, catapulting it past Black Friday and Cyber Monday to become Amazon's most profitable shopping festival to date.
What a great idea to create a 'fake festival' just for your platform!
Oh wait, we've heard that one before. As it turns out, Chinese e-commerce platforms have been gracing their consumers with such joy for a little longer than Amazon. The most prominent examples are Alibaba's Single's Day on Taobao and Tmall and Tencent's recent 618 shopping bonanza on JD.com.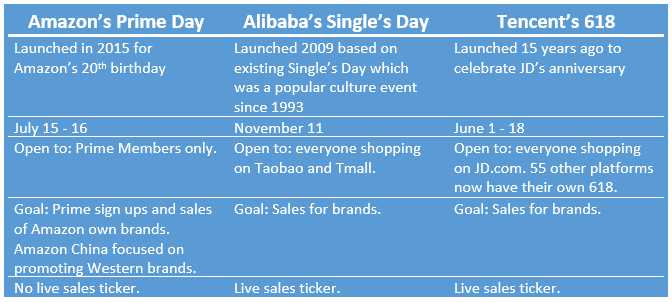 Things Amazon learned from Singles Day and 618
Similar to its Chinese counterparts, Amazon's Prime Day is getting longer by the year. This year deals went on for 48h in the US and Europe (618 was 20 days this year) and for a whopping 64h in China, which celebrated the longest Prime Day worldwide.
Amazon.cn also opted for a different interface compared to its UK version, with a focus on brands rather than Amazon deals. This is typical for Chinese platforms who promote brands to generate revenue.
However, despite the elongated festival in China and the localised approach, here are some reasons why it might have flopped in China:
Amazon ceased its business with third-party vendors in China just before Prime Day. The Global Store is still open for business but makes Amazon less convenient to the Chinese consumer.
Delivery times: Often delivery times on Chinese websites are within hours. Order something through the Global Store from Germany and you might have to wait a week.
Brand awareness: Many Chinese consumers don't know Amazon Prime Day exists in China. The conversation on Weibo was very quiet with #亚马逊Prime会员日 #AmazonPrimeDay only accumulating 44k discussions over the years, compared to Single's Day's billions.
Although Amazon tapped into entertainment (like Singles Day) as they hosted a Prime Day Concert in New York featuring Taylor Swift and Dua Lipa, this was not publicised enough in China. However, those that did get wind of it shared images of their favourite stars at the concert on Weibo. Had this been planned better, the conversion rates might have been higher.
Amazon is not as transparent as Alibaba and JD.com, who show their live earnings and top-performing brands and products. This might impact trust levels.
Amazon's been struggling for 15 years in China and we're not too surprised. Just take a look at that competition!