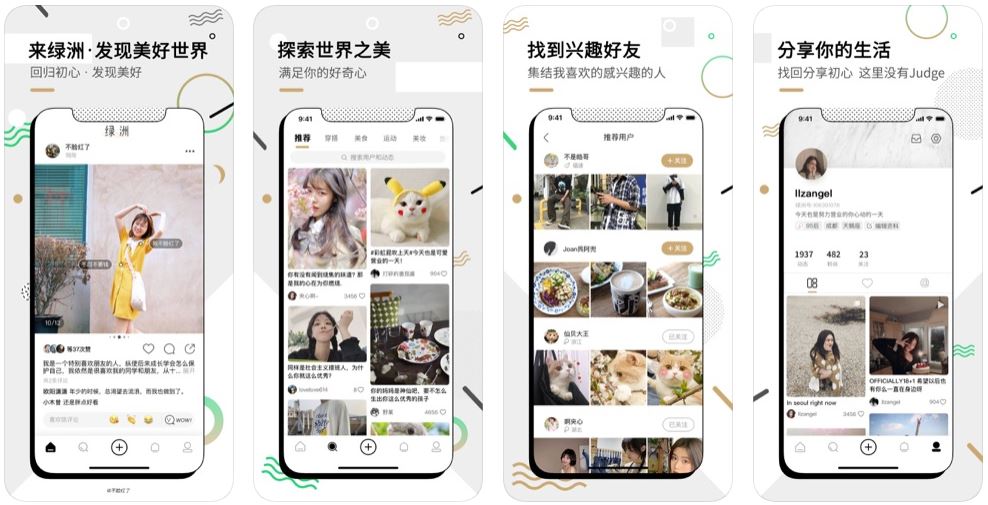 On August 29, Sina Weibo released绿洲 Lǜzhōu, or Oasis in English, a new lifestyle social media platform. Even though it is still in Beta testing with no official launch date, it is already hailed to be China's answer to Instagram.
The interface looks very similar to the popular Western picture platform owned by Facebook while other features are reminiscent of 小红书Xiǎohóngshū or Little Red Book/RED. The developers claim users can escape from the complex life and the dry social media desert to a welcoming friend circle filled with beautiful images and friends with similar interests. Users can upload photos, edit them on Oasis, tag locations and people and share to their friends with a cute caption.
Here is a comparison between home page interfaces of Oasis, RED and Instagram (left to right)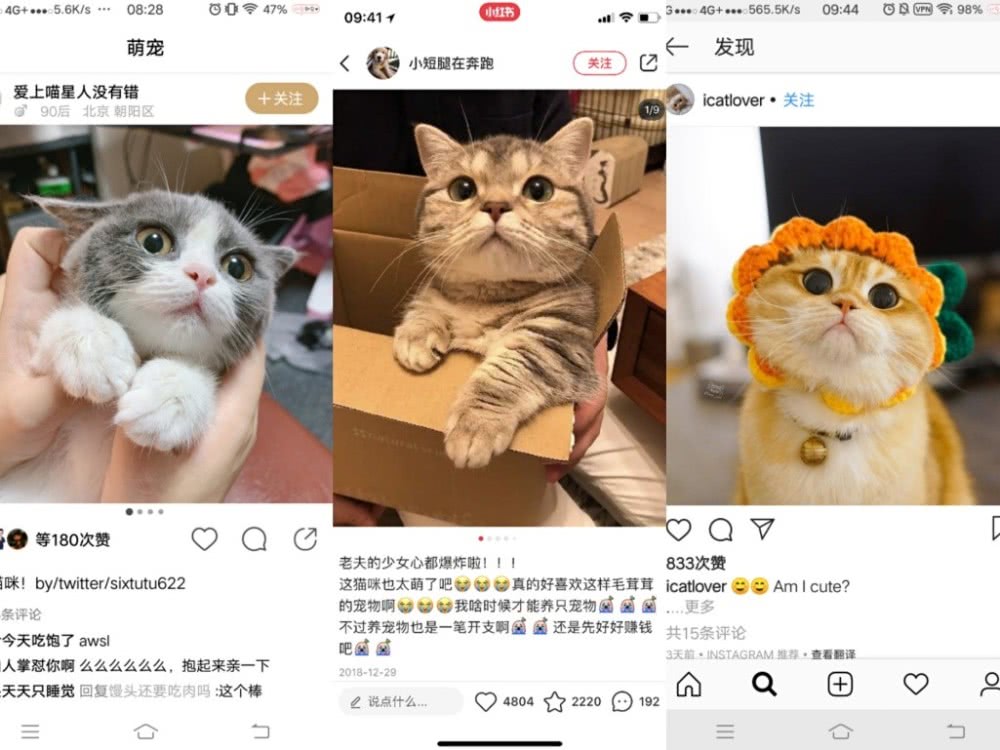 And the discovery page of Oasis, RED and Instagram (left to right)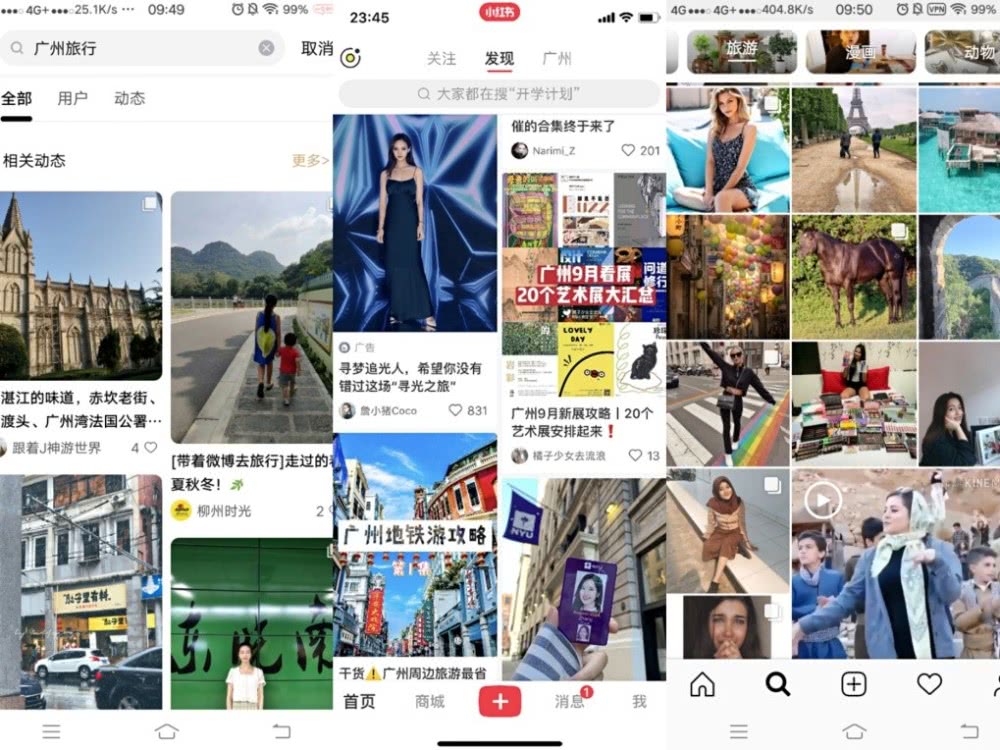 Oasis can be downloaded from the iOS App Store (here), or via a QR code (Android). On September 2, the day the Beta launched, it climbed to #1 within the App Store's Social Apps. Unless invited by Weibo (celebrities and KOL), new users need an invitation code provided by existing users to launch the app.
If enabled, it automatically syncs the users' images from Weibo as well as the engagement rates. An attractive proposition for Weibo users who can carry their fame across to Oasis without having to start a profile from scratch. The syncing of new posts between Oasis and Weibo works similarly to that between Instagram and Facebook with the flick of a switch.
Why has Sina Weibo decided to launch Oasis?
1.       Instagram is 'hot' but banned in China
In June, Instagram had more than 1 billion monthly active users (MAU) and more than 2 million active advertisers with a revenue contribution of about 17%. These figures are expected to grow. Speaking through pictures has proven an attractive selling point for Instagram. It's simple to edit and post touched up photos with a catchy caption to your profile.
Many Chinese people, especially those living abroad, are on Instagram and have played a large part in becoming advocates of the app to their friends in China. Hence, leading to an increase in popularity.
Fortunately for Weibo, Instagram is stuck behind the Great Firewall, meaning it can only be used with a VPN in China or overseas. With Oasis, Chinese users can enjoy Instagram's selling points freely and integrated into their existing social media landscape.
2.       Xiaohongshu or Little Red Book/RED is still unavailable to download
The popular lifestyle and review application has been unavailable on iOS and Android stores since the end of July due to various reasons including fake engagement and the promotion of illicit products and services – perfect for Weibo to launch Oasis.
Additionally, although the interface looks similar to REDs, new users welcome the fact that Oasis is still ad-free. Although, that is almost certain to change, should it gain the momentum it is hoping for.
3.       Weibo needs a growth spurt
On August 19, Weibo announced in their second quarterly report a total revenue of 4.318 US dollars, an increase of only 1% YOY. Weibo reached 486 million MAU in June, a year-on-year increase of 13% meaning that although the number of users is growing, the growth rate is declining. This is mainly due to the rising popularity of different forms of content, particularly lifestyle and e-commerce on RED and short-form video from the likes of Douyin (TikTok) and Kuaishou. This is partly due to the fact that Weibo has turned into a 'commercial billboard' flooded with brand messages, influencers and articles, driving users to these 'quieter', more specialised platforms.
Naturally, this is not a good thing for Weibo's stock prices. With the introduction of Oasis, Weibo (similar to Facebook) can introduce another aspect to investment values.
Weibo DAU (million) and year-on-year growth rate from 2013 to 2019 to 2019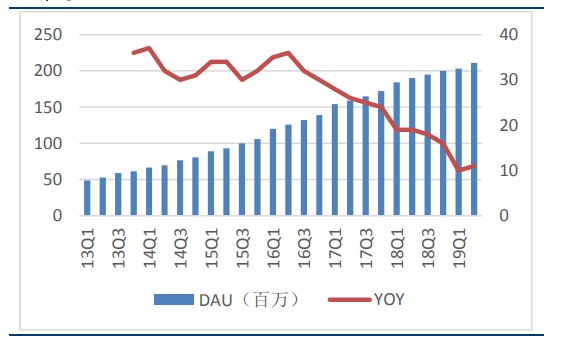 Image source: Tianfeng Securities Research Institute (Sina Finance) 
Oasis faces a fair few challenges, not least from its many social networking competitors as, according to Tencent news the social network app industry reached 88% saturation in June.
However, anything can happen over night in China, even a complete shift in online landscapes.
Either people will be overwhelmed with yet another social media platform, or they will embrace and run with it. We're tending towards predicting the latter. Chinese netizens are quick to adopt to new platforms and features and enjoy trying new things to stay ahead of the curve. Thousands of WeChat and Weibo users have shared their invitation codes to help their friends log in to Oasis – the #绿洲# has had more than 42 million impressions. Furthermore, Oasis only started posting on Weibo today (3 September) and already has over 824k followers.
It remains to be seen whether the promised added value of pure picture content and a simple, ad-free app that links to Weibo automatically, materialises or whether it strays and spiralls and allows too much content like RED and Weibo. The users and content will have to be heavily policed from the start to prevent Oasis running into the same problems as RED.
Should brands jump onto Oasis?
Celebrities and Key Opinion Leaders (KOL) were the first to be on Oasis, meaning it won't be long before brands will follow. It is another platform to increase brand visibility, especially considering content and likes automatically transfer between Oasis and Weibo.
For now, stay put on Weibo and keep an eye on Oasis.
Stay tuned…
The magic didn't last long: Oasis was removed from app stores just a couple of days post-launch. Why? Weibo copied a Korean event company's logo, leading to plagiariam claims and Chinese netizens calling the copying act "shameful". Understandably, that could've led to a negative backlash, especially considering that China has come so far in shaking off their 'copy cat' label.
This is just how similar the logo was:
Oasis published an official apology on Weibo, acknowledging the similarities and thanking the user that had brought it to light. We were worried the spell was broken, however, Oasis bounced back onto app stores with a brand new, revamped logo!
"Let's add a few triangles – bimbamboom, perfect!"