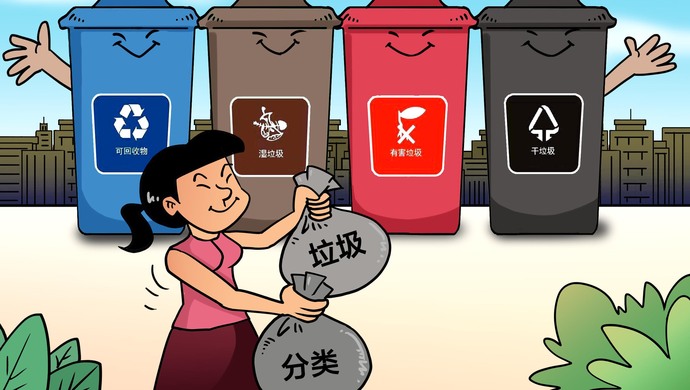 What do bubble tea, shrimps, and boyfriends have in common? That's right, we don't know which bin to put them in once we're done with them. At least that's now the case in Shanghai. You're confused? You're not alone.
On 1 July 2019, Shanghai, China's dazzling tier 1 metropolis, treated its 24 million residents to a new law. A law that will benefit not just them, but the whole of China and even the rest of the world. A law that promises a greener future by tackling the city's mountain of rubbish, which is growing by 9 million tonnes annually, according to Xinhua news. Residents can no longer mindlessly chuck their rubbish into one bin but now have to sort it. If they don't, or do it wrong, individuals face the angry rubbish sorting helper (imagine the pressure of someone watching you sift through your bin), a 200RMB fine (£23) and even penalties on their social credit score. And they only have small windows for dumping – a couple of hours in the morning before work and a couple in the evening.
Businesses are hit hardest, as they are forced to gear up for surprise inspections and make sure their tracked bin bags are impeccably stuffed. They risk having to fork out up to 50,000RMB and taking hits to their credit score. The 5-star hotel 'Grand Shanghai' was one of the first 300 businesses, checked within the first couple of days, to receive a warning for not complying with the new law. And they will not be the last. Latest figures prompted local authorities to double down on businesses, as residents are outperforming them.
The pig analogy
If you're still thinking "simples", wait until you hear what the different bins are. There aren't just the old recycling and the everything-else-bins we have in the UK. No. The system is closer to that of the reigning rubbish sorting champions over in Germany. There are four different bins: recyclables, harmful rubbish, wet and dry rubbish – whatever that means. A wet bin? OK then. If you're not in possession of an app that lets you scan your waste and then tells you which bin to put it in, the trending 'pig analogy' might help. It's so useful, it has even been discussed on national TV and turned into multiple rap versions. Basically:
If a pig will eat it, it's wet rubbish. That includes domestic waste such as food waste, leftovers, expired food, plants, and Chinese medicine.
The pig turns its nose up at the dry bin. That is any other domestic waste that doesn't fit in the other three categories.
If you end up with a dead pig, you probably fed it something toxic, like batteries. Those don't digest well. The same goes for lamps, drugs, paint and their containers. You get the gist.
Finally, if you can sell your rubbish to buy a pig, it would've been recyclable. Paper, plastics, glass, scrap metal, fabrics, and so on. If you're not already familiar with this bin, take this as a polite nudge to get to know it. We have it here too. Get with the programme: recycling is the future.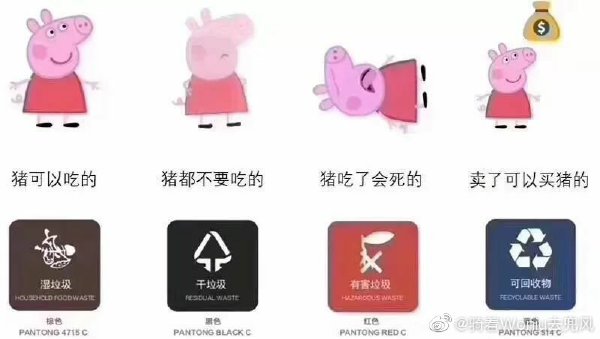 Previously, scenes of tricycles stacked sky-high with cardboard or plastic bottles alongside a Porsche were normal in Shanghai. Selling recyclables was a livelihood. Will this business still exist with the new sorting system? Just one of many more or less useful questions.
What are the locals saying?
Chinese netizens, who are always quick to react, took to the web to answer their own pressing questions. In fact, the hashtag #RubbishSortingChallenge #垃圾分类挑战# accumulated over 1.4 billion impressions on microblog Weibo (top two in China's most important social platforms with WeChat).
One user said: Finished blowing out the candles on my birthday cake today and my mum's first reaction was to ask "candles, dry garbage or wet garbage?".
Bubble tea is also an interesting one. The popular drink consists of the plastic cup, edible bubbles, tea, a straw and a film across the top. I'll let you figure that one out. Others have been taking lobsters apart. Does the poor crustacean's shell count as dry rubbish and the meat as wet? And what about pips, skins and shells of fruits and nuts? Of course, the often ironic, meme-friendly Chinese internet community couldn't leave it at that, as they figuratively 'dumped' their boyfriends and girlfriends. "What kind of rubbish is it this time?", the friendly rubbish assistant asks as the boyfriend drags his girlfriend to the bin. In fact, Shanghai netizens created countless hilarious memes as they've started asking each other "what kind of rubbish are you?".
你是什么垃圾?
Just be sure not to get in a row with the helpers, as that might get you detained like a lady in Hongkou district. To be fair, she did choke the poor volunteer. It seems that the law is clearly impacting people, underscored by the fact that the hashtag #垃圾分类后的上海人# 'Shanghai's post-rubbish-sorting-law-people' has had over 300 million impressions on Weibo. Consumption behaviours have also taken a turn for the better. Chinese people don't think twice about ordering a takeaway which is mostly delivered with single-use cutlery. In July, the 'do not need cutlery' orders on Ele.me increased by 149% compared to the previous month.
Rubbish sorting is good for business
Of course, as with any new development, entrepreneurs and businesses are seeing dollar signs (or rather RMB ¥ signs ¥ ). Online platforms and brand-new start-ups have begun to offer rubbish collection services, and educational apps and mini-programs. Others are taking cuts for QR codes printed on bin bags which ensure they can be tracked and processed correctly.
And what about all the CSR and PR opportunities? Corona Shanghai was one of the first brands to turn the new law into a marketing stunt. They responded beautifully to those consumers confounded by how to extract the obligatory lime out of the glass bottle to separate into the correct bins (read our coverage of the story here).
There are so many steps within the whole waste sorting and disposal process to jump in on. Someone needs to turn that wet rubbish into biofuel after all. In fact, first reports estimate that the rubbish sorting industry could result in market profits of a staggering 1 trillion RMB! And Shanghai is just the start…
Moving towards a more responsible, greener Shanghai
Although there is much confusion and complaining as the law is THE talk about town, the overall sentiment towards the new law is a positive one. Inspired by Western countries, London's extinction rebellion and possibly seeing Greta in action, China is experiencing a big trend towards sustainability. Shanghai residents, being in a top tier city, feel a sense of responsibility towards their fellow county(wo)men and believe that they can be a model for the rest of China. And everyone is doing their bit with celebrities leading the way.
Go on Shanghai, get in the (right) bin!
Header image from jfdaily.