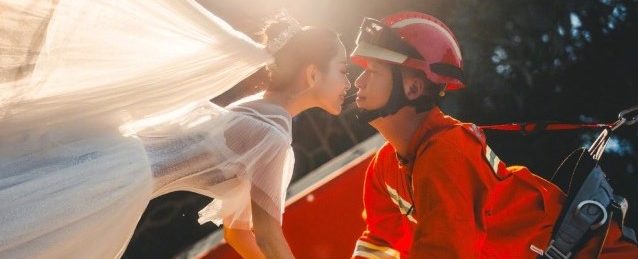 Every year on February 14 the UK, the rest of the Western hemisphere and, in recent years, China celebrate Valentine's Day. Although it has become very commercial, it is a day on which we think about someone special, (potentially) tell them how we feel about them and give or receive chocolates and flowers. According to the BBC, it is based on historical occurrences and dates back all the way to the year 496.
But today (7 August 2019) is also Valentine's Day in China!
Did China copy Valentine's Day?
Not quite. Although they may have only just started celebrating the Western Valentine's Day, China have their own love festival that dates back longer than the tale of St. Valentine. Qixi 七夕 ("tshee-shee") happens on the seventh day of the seventh month in the lunar calendar, meaning the date shifts every year in our Gregorian calendar.
Qixi has been celebrated in China since the Han Dynasty (206 BC–220 AD) and is based on ancient Chinese mythology. The story is a long one which varies slightly in renditions, but it all boils down to an annual reunion of two star crossed lovers.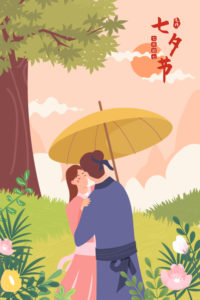 The cow herd (牛郎Niú láng) and the heavenly weaver girl (织女 Zhīnǚ) fell in love on earth but were not allowed to be together. Even though the cow herd managed to ascend to the heavens, the weaver girl's mother, a powerful goddess, drew her hairpin between them, creating a mighty river of stars – the milky way. Only once a year magpies flock to form a bridge so that the lovers may unite.
Traditional festivities were centred around women who would display their domestic skills, especially needle crafts (like the weaver girl in the story) to demonstrate that they were good wives.
Nowadays, it is a day to make time for your loved one, no matter how busy you are of how far apart. Qixi has become more like Western Valentine's Day, especially for the younger population. Compared to other Chinese festivals, such as mid-autumn festival, Qixi is especially popular among Millennials and GenZ, as it is less about the traditional family aspect and more about individuals.
Posts on social media (especially on WeChat, Weibo) are spiking: the WeChat index related to Qixi increased over 200% in the last five days and there are love stories, polls on relationship statuses with hundreds of thousands of replies. At least 5 Qixi related hashtags are among the trending top 20 on Weibo on the day. The hashtag #七夕最想收到的礼物# (The Gift I Most Want To Receive On Qixi), for example, was trending on the run up to Qixi and has over 240 million views and 66k discussions. A quick search of 七夕 (Qixi) on review platform Xiaohongshu, aka Little Red Book, then reveals thousands of gift ideas from little bits covered in love hearts, beautiful poems and sweet treats to expensive designer bags and perfumes.
Some topics are humorous with #老婆的礼物 我的礼物 (My Wife's Gift VS My Gift) accumulating over 8 million impressions with very funny images. A hint: the wife's gift is usually better than the man's. But it's not just for couples, even singles get involved and got the hashtag #今天只是周三 (Today is Only Wednesday) trending on Weibo with funny memes and over 200 million views.
Brands, of course, take advantage of the love theme and double down on targeting efforts with special posts, campaigns and promotions on the run up to Qixi. A wide range of advertisements related to Qixi can be seen across all platforms (social, e-commerce, music, news, etc.) along with special offers and challenges for users to participate in. Even a simple social post wishing everyone a happy Qixi will go a long way.
Qixi can be seen as a festival for brands to experiment and move away from the traditional family messaging used during Spring Festival. It is also a time to reach the younger audience of Millennials and GenZ – couples and singles alike. Be as creative as you want!
Here are a handful of brand examples:
Yes to two Valentine's Days!
There isn't much difference between Valentine's Day and Qixi in China these days, but why should there be? The more love the better!
愿有情人终成眷属!All shall be well and Jack shall have Jill!
七夕快乐 Happy Qixi!