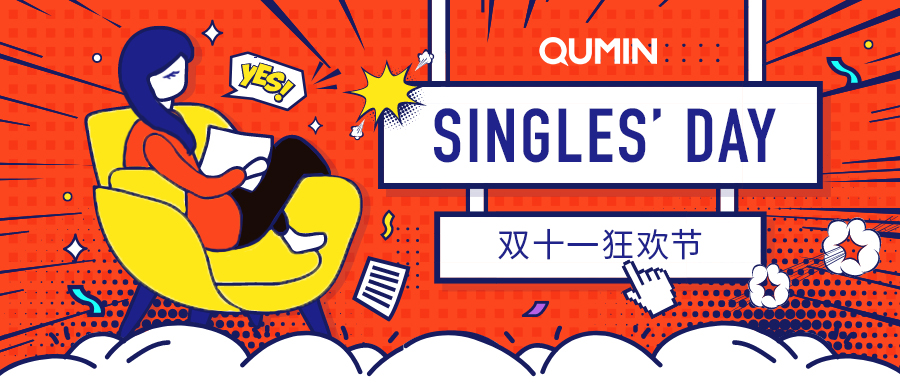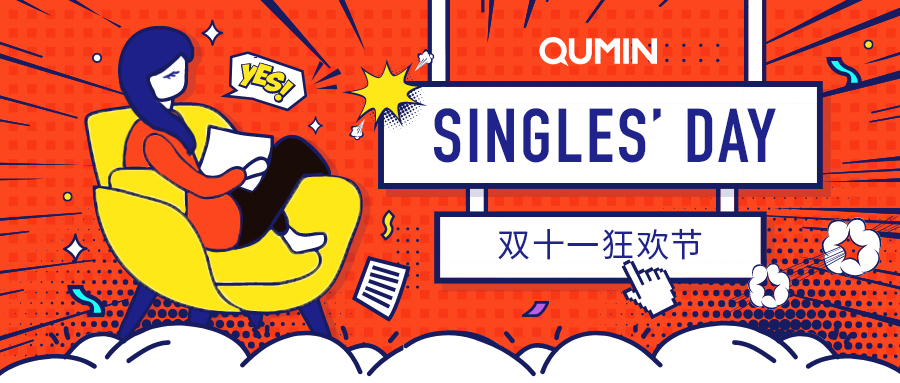 Do you know the world's largest shopping festival, Chinese Singles' Day, also known as Double Eleven 双十一 ?
Fear not, we asked our Senior Account Manager Ming Lee to summarise the most important information you need. Over the years, Ming has helped many of our clients prepare and execute successful Singles' Day campaigns. In this interview, she answers 3 simple questions about the madness that happens every year on 11 November.
What is Singles' Day? // How can brands take advantage of Singles' Day? // What is the next festival in China?
The origins of Singles' Day
Contrary to most beliefs, Singles' Day was not created by Alibaba. Guānggùn Jié 光棍节 was invented by students at Nanjing University. Originally, the intention was to help singletons find a partner, as being single is not desirable in traditional Chinese culture.
How is Singles' Day celebrated today?
In 2009, Alibaba, in their quest to boost sales between Golden Week and Chinese New Year, latched on to this festival. Similar to how Amazon created Black Friday, they turned it into a shopping festival on their e-commerce platform Tmall.
Double 11 Statistics
In 2009 only 27 brands raked in 50m RMB. Fast forward almost 10 years to 2018, which saw $30.8bn of sales within 24h (correction: USD not RMB as per the video). This year (2019), over 200,000 brands are selling over 1m products to over 500m consumers. Last year's record sales were topped within 16 1/2 hours and made a total of $38.4bn USD.
QUMIN'S EXPERIENCE AND PRACTICAL TIPS
Single's Day is not as big a festival as Chinese New Year or Golden Week, so brands should start small with a very well thought out strategy.
Content must be localised in simplified Chinese, as many Chinese tourists in particular are not as comfortable with the English language as Chinese students or expats who live and work overseas.
Brands can leverage existing local or global offers and make these available to Chinese consumers on Chinese platforms. This is advisible, as creating promotions specifically for the Chinese audience may look like a money-grabbing stunt and backfire.
Step-by-step booking guides in Chinese are also recommended to help eradicate potential barriers along the customer journey.
Which platforms should brands target?
WeChat and Weibo are currently the most used platforms by Western brands. To help track conversions on WeChat und thus better understand their audience, brands can use trackable QR codes within WeChat articles.
Little Red Book (RED) or Xiaohongshu has enjoyed an immense popularity boost over the last couple of years for its Instagram/TripAdvisor like functions. Users can post and search for reviews by both influencers and 'normal' users and seamlessly link to brands and products within posts. This is a great platform for brands to open official accounts on and work with influencers to showcase products and services.
The short-form video platform Douyin (TikTok) is currently 'hot' among Chinese consumers and brands. It is a great platform for user engagement and also incorporates e-commerce features  (more on Douyin here).
THE NEXT BIG FESTIVAL IN CHINA
What is the next big festival in China?
Surprisingly enough, the next big festival in China is Christmas. Although Chinese people have not grown up with the religious meaning of Christmas, they enjoy the festivities around the holiday – the lights, snow, decorations, Father Christmas… and, of course, the presents. Christmas is another opportunity to share happiness and give gifts to friends and family. Hence, it is a valuable time for brands to promote their products and services.
What about Chinese New Year?
After Christmas, China's most important festival looms: Chinese New Year. CNY 2020 will be a special and important one for brands to tap into, as it is not only the start of a new decade, but also the beginning of a new cycle in the lunar calendar. Every year is represented by one of 12 zodiac animals, of which next year's rat is the first. At Qumin, we have already started to work with clients on proposals for CNY2020 – the earlier the better!
Should you have any questions and want to discuss taking part in Chinese festivals in the future, please feel free to get in touch today. We look forward to working with you!